G-d, I want him back!
Sharing the heart's power to heal after the devastating loss of a child
By Miriam Karp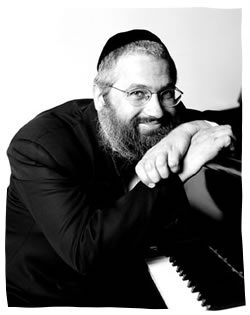 Gershon Wachtel
A devastating storm tore a beautiful branch off the family tree of Gershon and Chaya Wachtel, some fourteen years ago.
The day started innocently enough.
Just an ordinary family, working hard to get by, Gershon and Chaya were introduced to Chabad by their good friend and mentor, Rabbi Nosson Gurary of Buffalo, some 35 years earlier. As they grew their family, they eventually left Buffalo for the big city of Toronto. Gershon worked in insurance, and Chaya kept the home fires burning, a busy home of eleven active children. Gershon was a classical pianist by avocation, and was in the beginning stages of opening an insurance agency, after working in kosher food management, by vocation.
This summer Sunday, the family piled in the van and headed for a day in the country, to visit one of the children at overnight camp.
During the visit, four-year-old Pinchas Eliyahu, affectionately known as Pinchy, wandered away.
Gershon started looking for him. Up by the mess hall. Down by the lake. He ran into some friends as they continued looking.
"I saw them gathering the kids into the lunchroom, and thought, 'Good, they're organizing a search party.'
"Then I saw a group down by the beach and saw my son, laid out on the sand."
Pinchy had wandered to a completely different part of camp, fallen off an embankment, and drowned.
"Up until that moment," G-d, if I have done any good, I'm ready to cash in the chips now." Gershon recalls, "I thought I had an in with G-d. I began praying, begging, bargaining. 'G-d, if I have done any good, I'm ready to cash in half the chips now, just bring him back.' After an agonizing moment, 'G-d, if I have done anything good, I want that reward now - I WANT HIM BACK!'"
We were in total shock.
I called my wife from the hospital and we cried. Buckets of tears. Rivers of tears.
I thought of the story in the Prophets, where the woman comes to Elisha the prophet, carrying her dead son, begging him to restore him to life. Elisha takes him, lays on him, puts his mouth on his, and miraculously revives him.
I kept thinking, maybe I can go to that room -- later, to that grave -- and lie right on him, breathe into him, and revive him; it will be the greatest miracle. Pinchy was such a special boy, with a smile that lit up the world. For a special soul like his, anything was possible.
But I finally had to accept.
The miracle wasn't going to happen.
It was over.
"The funeral was hard, so hard," Gershon recalls in an emotional tone. "Hearing my wife say the blessing, 'Blessed is the true Judge,' word after word, after the rabbi, as she sobbed. Watching my kids crying. It was bad."
Then came the unveiling.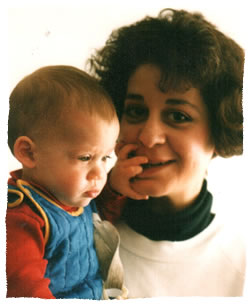 Pinchas Eliyahu and Sister In law
"My 5 year-old-son came up to me with a folded paper game he had made. 'What's that?' I asked. 'I want you to give this to Pinchy, so he'll have something to play with.'
"You know what hysteria is? It's where laughter and crying meet. I handed the toy to the rabbi. 'What should I do with this?' I buried my head in my chest and cried and cried and cried.
"We had hit rock bottom."
Gershon vowed he would never play piano again. He knew with absolute certainty he could not survive the pain. "I told my wife, ' I can't live.' And I meant it. On the way home from the unveiling I told my wife I was scraping our new business, due to open shortly.
"My wife is an incredibly strong woman, and she insisted we would continue."
And so they did. From the ground up, financially, creatively, emotionally, spiritually, one day, one week, one month at a time.
How?
"We had no money, literally," Gershon says. "I was gone till 10 or 11 each night for the next few months. My wife had to pack my breakfast, lunch and dinner. She was home with all the kids, no money, and pregnant.
"She made a conscious decision that she was not going to break down."
Each took turns pushing the family back to a new normal, insisting they wouldn't accept no for an answer, at each milestone of return. Looking back, along with the horrific pain, there were signs that gave the family strength and comfort.
"When and where did my wife feel the first fluttering of the new baby? In the cemetery. A sign that life would somehow go on."
Gershon remembers his beautiful son, and knows he was a special neshamah (soul), the kind that makes you feel his days had a special and unusual meaning, that perhaps his life trajectory was meant to be different.
Today, Gershon insists, "I am happy. I'm really back. Is there pain? Yes, there is pain. But we made a decision, and refused to not go back to a normal life."
Not only have he and Chaya managed to rebuild, but he has found a unique avocation. Gershon today uses his rich musical talent to offer much more than an aesthetically beautiful experience. He has developed a When I can't offer words, I can say, "I surrender." one-man show that combines stories, absorbing personal narrative both poignant and humorous, and sensitive musical interludes. Gershon uses the stage as a platform to provide hope, healing and faith, the kind that only one who has been there, at rock bottom, can give. "I realized that everyone lives with problems, many with very big ones. I share with people, and what I can't say with words, I say with music."
Gershon shares the power of the heart to heal.
"I've learned several tools for dealing with problems, tragedy and failure. First, compartmentalize. Put your problems in a box, don't dwell on them. When they come to haunt and distract you again and again, you have to push them away, again and again, over and over, and yell at them, 'Get away! I'm not going to think about you!'
"Do acts of kindness. Keep yourself busy and get absorbed in others.
Gershon in action
"The next tool is prayer. Really pray, from the bottom of your heart, like you mean it. With the words of the prayer book or the words of your heart. Call out, 'Tatta, helf mir! Daddy, help me!' And He really does. G‑d does heal, and He gives us the ability to connect with Him.
"Sometimes a person can hit so low. He feels, I can't pray, I don't even have the ego power to feel that I -- me, a person -- want to connect with G‑d. There are no words. There, where I can't offer words, there's not enough of me to offer up anything, I can say, 'I surrender.' "
Gershon describes his prayer and relationship with G‑d as rich and intimate, a wellspring that has not diminished as the fourteen years have passed, but has intensified with time.
"I feel I have joined a very exclusive club," he pauses, "whose admission price is very steep. A club that allows you a special relationship with G‑d. It's the kind of relationship that normally can't be attained without extremely great effort."
With the two rich means of expression, praying and playing, Gershon has found the path back to life, and to giving life and strength to countless others. "Music is a huge palette. Everything is there: hope and love. I often play for an hour before I pray. When I play I can really feel my soul and know I am connecting. When something is really bothering me, I play and I pray.
"I'm dedicating my life to spreading the word that there's hope. Never give up."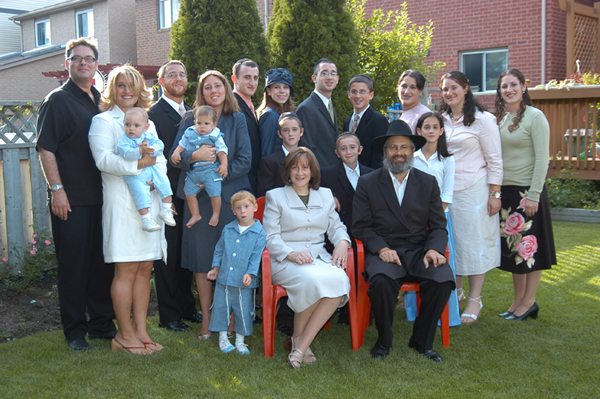 My Fortune